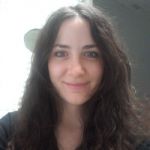 Telephone: 0498276538
Via Venezia, 8 – Room 01.027
federica.meconi@unipd.it
Research Areas
Visuo-spatial short term memory
Social neuroscience
I am interested in electrophysiological correlates of social cues, including race and trustworthiness.
In particular I have explored the time-course of empathic neural response to pain of own and other-race individuals. My latest research focuses on the dissociation between experience sharing and mentalizing, two main components of empathy.
Publications
2018
2017
2016
A multi-modal fNIRS/EEG investigation of the fronto-parietal network during audio-visual matching Conference
Biennal Meeting of the Society for Functional Near-Infrared Spectroscopy, Paris (FR). October 13-16, 2016.
2015
2014
Electronic versions of papers are provided as a professional courtesy to ensure timely dissemination of academic work for individual, noncommercial purposes. Copyright and all rights therein reside with the respective copyright holders, as stated in each paper. These files may not be reposted without permission.