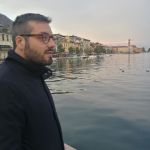 Research Areas
Currently, my research focuses on understanding face processing from a network neuroscience perspective.
I am also interested in affective and empathic responses to naturalistic emotional stimuli. Finally, I have a keen interest in improving current methodology for EEG/ERP preprocessing and statistical analysis.
Publications
2020
Spectrally resolved EEG intersubject correlation reveals distinct cortical oscillatory patterns during free-viewing of affective scenes Journal Article
In: Psychophysiology, vol. 57, no. 11, pp. e13652, 2020.
2019
Spontaneous blink rate as an index of attention and emotion during film clips viewing Journal Article
In: Physiology & behavior, vol. 204, pp. 256–263, 2019.
Comparison of automatic visual attention in schizophrenia, bipolar disorder, and major depression: Evidence from P1 event-related component Journal Article
In: Psychiatry and clinical neurosciences, vol. 73, no. 6, pp. 331–339, 2019.
Affective and cortical EEG gamma responses to emotional movies in women with high vs low traits of empathy Journal Article
In: Neuropsychologia, vol. 133, pp. 107175, 2019.
E-MOVIE-Experimental MOVies for Induction of Emotions in neuroscience: An innovative film database with normative data and sex differences Journal Article
In: Plos one, vol. 14, no. 10, pp. e0223124, 2019.
2018
Spontaneous eye blink rate: An index of dopaminergic component of sustained attention and fatigue Journal Article
In: International Journal of Psychophysiology, vol. 123, pp. 58–63, 2018.
2015
Sex differences in emotional evaluation of film clips: interaction with five high arousal emotional categories Journal Article
In: PloS one, vol. 10, no. 12, pp. e0145562, 2015.
Electronic versions of papers are provided as a professional courtesy to ensure timely dissemination of academic work for individual, noncommercial purposes. Copyright and all rights therein reside with the respective copyright holders, as stated in each paper. These files may not be reposted without permission.