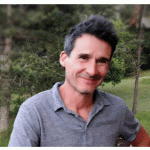 Telephone: 0498271277
Via Venezia, 8 – Room 02.022
eduardo.navarrete@unipd.it
Research Areas
speech production; language and social categorization; lexical access; semantic access; sign language
Publications
2019
A New Standardization of the Bells Test: An Italian Multi-Center Normative Study Journal Article
Frontiers in psychology, 9 , pp. 2745, 2019.
2018
The Manipulability Effect in Object Naming Journal Article
Journal of Cognition, 1 (30), 2018.
The iconicity advantage in sign production: The case of bimodal bilinguals Journal Article
Second Language Research, 34 (4), pp. 449–462, 2018.
Spatial congruency effects exist, just not for words: looking into estes, Verges, and Barsalou (2008) Journal Article
Psychological science, 29 (7), pp. 1195–1199, 2018.
2017
Activation cascading in sign production Journal Article
J Exp Psychol Learn Mem Cogn, 43 (2), pp. 302–318, 2017.
VRT (verbal reasoning test): a new test for assessment of verbal reasoning. Test realization and Italian normative data from a multicentric study Journal Article
Neurol. Sci., 2017.
A joint investigation of semantic facilitation and semantic interference in continuous naming Journal Article
J Exp Psychol Learn Mem Cogn, 43 (5), pp. 818-823, 2017.
Acquisition of nouns and verbs in Italian pre-school children Journal Article
Journal of child language, 44 (6), pp. 1362, 2017.
2016
Antecedent frequency effects on anaphoric pronoun resolution: Evidence from Spanish Journal Article
J Psycholinguist Res, 45 (1), pp. 71–84, 2016.
Modelling lexical access in speech production as a ballistic process Journal Article
Language, Cognition and Neuroscience, 31 (4), pp. 521–523, 2016.
Electronic versions of papers are provided as a professional courtesy to ensure timely dissemination of academic work for individual, noncommercial purposes. Copyright and all rights therein reside with the respective copyright holders, as stated in each paper. These files may not be reposted without permission.