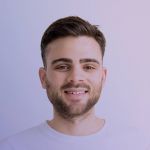 Telephone: 0498276
Via Venezia, 8 – Room 01.0
filippo.gambarota@phd.unipd.it
Research Areas
Visual working memory and consciousness
Unconscious Processing
Meta-analysis
Selected Publications
2021
Blocking facial mimicry during binocular rivalry modulates visual awareness of faces with a neutral expression Journal Article
Scientific Reports, 11 (1), pp. 1–11, 2021.
Publications
2021
Blocking facial mimicry during binocular rivalry modulates visual awareness of faces with a neutral expression Journal Article
Scientific Reports, 11 (1), pp. 1–11, 2021.
2019
Visual working memory for faces and facial expressions as a useful "tool" for understanding social and affective cognition Journal Article
Frontiers in psychology, 10 , pp. 2392, 2019.
Electronic versions of papers are provided as a professional courtesy to ensure timely dissemination of academic work for individual, noncommercial purposes. Copyright and all rights therein reside with the respective copyright holders, as stated in each paper. These files may not be reposted without permission.