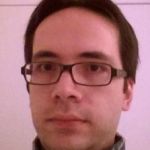 Telephone: 0498276538
Via Venezia 8 – Room 01.027
michele.scaltritti@unipd.it
Research Areas
Language; Motor programming; Psycholinguistics; Word Production; Visual Word Recognition
Publications
2015
Bilingual advantage and language switch: What's the linkage? Journal Article
In: Bilingualism: Language and Cognition, pp. 1–18, 2015.
2014
A behavioral database for masked form priming Journal Article
In: Behavior Research Methods, vol. 46, no. 4, pp. 1052–1067, 2014.
Effect of the consonant--vowel structure of written words in Italian Journal Article
In: The Quarterly Journal of Experimental Psychology, vol. 67, no. 5, pp. 833–842, 2014.
2013
Are all letters really processed equally and in parallel? Further evidence of a robust first letter advantage Journal Article
In: Acta psychologica, vol. 144, no. 2, pp. 397–410, 2013.
Electronic versions of papers are provided as a professional courtesy to ensure timely dissemination of academic work for individual, noncommercial purposes. Copyright and all rights therein reside with the respective copyright holders, as stated in each paper. These files may not be reposted without permission.