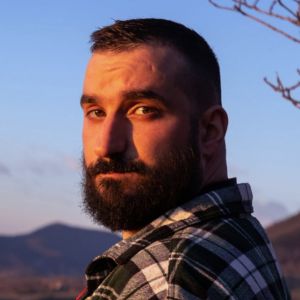 Research Areas
predictive processing in speech comprehension
speech production
speech and language in atypical populations (people who stutter, deaf people with cochlear implant)
electroencephalography
I obtained a master's degree in Linguistics in 2015 (Unipd) and a PhD in Psychological Sciences in 2021 (Unipd; supervisor: Prof. Francesca Peressotti). Currently, I'm a Research Fellow at the Department of Developmental and Social Psychology (DPSS), University of Padova, Italy. My main research interests lie in predictive processing during auditory language comprehension, its electrophysiological correlates, and how prediction may relate to speech and language production processes and their neural underpinnings.
During my PhD I employed time-frequency and event-related potential analyses of electroencephalographic data to investigate the possible supporting role of language production processes in prediction during comprehension, both in typical and atypical populations (e.g. adults with persistent developmental stuttering). Currently, I'm developing a research line on prediction and degraded auditory processing by taking deaf people with cochlear implant as testing ground, in order to understand how predictive processing aided by linguistic and non-linguistic cues may benefit hearing-impaired people.
I'm currently collaborating with researchers from Padova University Hospital (Padova, Italy), IRCCS San Camillo Hospital (Venice, Italy), BCBL – Basque Center on Cognition, Brain and Language (Donostia-San Sebastian, Spain), CIMeC – Centro Interdipartimentale Mente-Cervello (University of Trento, Rovereto, Italy), and the Scuola IMT Alti Studi Lucca (Lucca, Italy).
In 2020-2021 I spent a visiting period at the BCBL – Basque Center on Cognition, Brain and Language (Donostia-San Sebastian, Spain). Here I worked with the Brain Rhythms and Cognition group, under the supervision of Nicola Molinaro (BCBL / Ikerbasque), and focused on speech-brain entrainment in stuttering.
Previously (2016-2017), I worked with the Cognitive Biology of Language group at the University of Barcelona (Spain), under the supervision of Cedric Boeckx (UB / ICREA). Here I contributed to the group's line of investigation on self-domestication in the evolution of Homo Sapiens.
Conferences
2017
The encoding of numerosity in quantification expressions. Insight from an ERP study Conference
Poster at the 18th Science of Aphasia, September 11–14, 2017, University of Geneva, Geneva, Switzerland, 2017.
Encoding Numerosity into Number Morphology: An ERP Study Conference
Poster at the 10th International Morphological Processing Conference (MoProc), June 22–24, SISSA (International School for Advanced Studies), Trieste, Italy, 2017.
Paleogenomic evidence for self-domestication in Homo sapiens Conference
Talk at the Conference of the European Human Behaviour and Evolution Association (EHBEA), April 6–8, École Normale Supérieure, Paris, France, 2017.
2015
Referential Numerosity and Morphosyntactic Number Agreement: a Psycholinguistic Study on Italian qualche/alcuni Conference
Poster at the 41° Incontro di Grammatica Generativa (IGG41) [41st Generative Grammar Meeting], February 26–28, 2015, Università per Stranieri di Perugia, Perugia, Italy, 2015.
Electronic versions of papers are provided as a professional courtesy to ensure timely dissemination of academic work for individual, noncommercial purposes. Copyright and all rights therein reside with the respective copyright holders, as stated in each paper. These files may not be reposted without permission.