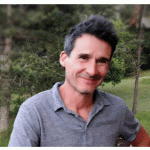 Telephone: 0498271277
Via Venezia, 8 – Room 02.022
eduardo.navarrete@unipd.it
Research Areas
speech production; language and social categorization; lexical access; semantic access; sign language
Publications
2020
Commonalities in alpha and beta neural desynchronizations during prediction in language comprehension and production Journal Article
Cortex, 131 , pp. 328-345, 2020, ISSN: 00109452.
Hands show where things are: The close similarity between sign and natural space Journal Article
Cognition, 196 , pp. 104106, 2020.
Language can shape the perception of oriented objects Journal Article
Scientific Reports, 10 (1), pp. 1–9, 2020.
Foreign language effect in decision-making: How foreign is it? Journal Article
Cognition, 199 , pp. 104245, 2020.
2019
Giudizi di iconicit`a per 234 segni della Lingua dei Segni Italiana Journal Article
Giornale italiano di psicologia, 46 (3), pp. 685–708, 2019.
Adjudicating conflict in speech production—Do we need a central selection mechanism? Journal Article
Cognitive Neuropsychology, 36 (5-6), pp. 220–224, 2019.
Outgroup faces hamper word recognition Journal Article
Psychological Research, pp. 1–11, 2019.
Italian norms and naming latencies for 357 high quality color images Journal Article
PloS one, 14 (2), pp. e0209524, 2019.
A New Standardization of the Bells Test: An Italian Multi-Center Normative Study Journal Article
Frontiers in psychology, 9 , pp. 2745, 2019.
2018
The Manipulability Effect in Object Naming Journal Article
Journal of Cognition, 1 (30), 2018.
Electronic versions of papers are provided as a professional courtesy to ensure timely dissemination of academic work for individual, noncommercial purposes. Copyright and all rights therein reside with the respective copyright holders, as stated in each paper. These files may not be reposted without permission.