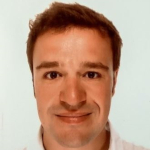 Research Areas
I am an experimental psychologist interested in visual attention and perception. My research approach integrates theories and methodologies of cognitive and affective neuroscience, psychophysics, and social psychology. I mainly use eye movements in combination with behavioural and self-report measures.
For a dynamically updated list of my publications, please check here.
Publications
Electronic versions of papers are provided as a professional courtesy to ensure timely dissemination of academic work for individual, noncommercial purposes. Copyright and all rights therein reside with the respective copyright holders, as stated in each paper. These files may not be reposted without permission.