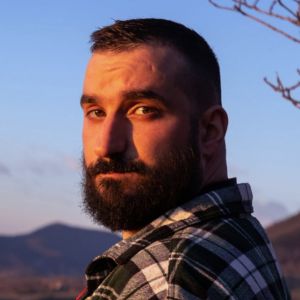 Research Areas
predictive processing in speech comprehension
speech production
speech and language in atypical populations (people who stutter, deaf people with cochlear implant)
electroencephalography
PhD research project (2021):
Does language production support prediction in comprehension? Electrophysiological insights from typical speech and stuttering
Research in language comprehension showed that the listener/reader does not passively attend to linguistic stimuli, but uses the available information to actively predict what is likely to be encountered. Some lines of research suggested that these predictions are generated by engaging the production system. During language production concepts to express are mapped onto lexical items, phonological forms, and articulatory programs. People may use these processes for prediction. However, it is still unclear whether and to what extent this is true. Do we internally simulate utterances and use the production system to predict other people's words? Do we predict just abstract linguistic information or also sensory information? Are motor-speech processes relevant for prediction and for attending to speech?
My PhD project aims at studying the mechanisms involved in predictive processing during speech comprehension and whether there are links with processes of speech production. To do so, I use electroencephalography to study neural oscillations (time-frequency modulations), event-related potentials (ERPs), and speech-brain entrainment in both adults with typically-developed language and adults with persistent developmental stuttering. I actively collaborate with researchers at the IRCCS Ospedale San Camillo (Venice, Italy) and the BCBL – Basque Center on Cognition, Brain and Language (Donostia-San Sebastián, Spain).
Other research interests: the language faculty and the language-ready brain, language and numerical cognition interface, cognitive biology and evolution of cognition, evolutionary linguistics.
Conferences
2021
Indagare il contributo della produzione linguistica nella predizione in comprensione. Indizi elettrofisiologici in adulti tipici e con balbuzie Conference
Oral presentation for the doctoral thesis prize competition, 17th Conference of the Italian Association of Psychology (AIP - Sezione Sperimentale), 8-10 September, Università del Salento, Lecce, Italy, 2021.
Frontal aslant tract and language production in bimodal and unimodal bilinguals Conference
Talk at the Architectures and Mechanisms for Language Processing (AMLaP), 2-4 September, Université de Paris, Paris, France, 2021.
Silent repetition as a window into inner speech processing in the brain Conference
Short talk at the INSL - Current Approaches to Inner Speech and Inner Language workshop, July 1-2, Institute of Linguistics, University of Vienna, Vienna, Austria, 2021.
2020
2019
Anticipatory mechanisms at beta frequency in language comprehension and production Conference
Poster at the 21st Conference of the European Society for Cognitive Psychology (ESCOP), September 25–28, Tenerife, Spain, 2019.
Predizione e produzione: Processi anticipatori nell'elaborazione del linguaggio in parlanti fluenti e con balbuzie Conference
Mini-talk at the XXV Congresso dell'Associazione Italiana di Psicologia – Sezione sperimentale, September 18-20, Università Vita-Salute San Raffaele, Milano, Italy, 2019.
Do I produce to predict? Brain oscillations in language anticipation in fluent speech and stuttering Conference
Talk at the 6th European Student Conference on Behaviour and Cognition (ESCBC), September 4-7, University of Padova, Padova, Italy., 2019.
Patterns of alpha and beta oscillations in language prediction and production Conference
Poster at the 7th Cognitive Science Arena 2019, February 15-16, 2019, Bressanone-Brixen, Italy, 2019.
Oscillazioni neurali α e β in predizione e produzione linguistica: Caratteristiche comuni e distintive Conference
Poster at the Giornate di Studi Scientifici sul Linguaggio 2019, February 11-12, 2019, Rovereto, Italy, 2019.
2018
Producing, comprehending, and predicting: Project outline on spoken and signed language electrophysiology Conference
Poster at the 6th Cognitive Science Arena 2018, February 23–25, 2018, Bressanone-Brixen, Italy, 2018.
2017
Referential numerosity in quantification expressions. An ERP study on Italian Conference
Poster at the 55th Annual Meeting of the Academy of Aphasia, November 5–7, 2017, Baltimore, Maryland, USA, 2017.
The encoding of numerosity in quantification expressions. Insight from an ERP study Conference
Poster at the 18th Science of Aphasia, September 11–14, 2017, University of Geneva, Geneva, Switzerland, 2017.
Encoding Numerosity into Number Morphology: An ERP Study Conference
Poster at the 10th International Morphological Processing Conference (MoProc), June 22–24, SISSA (International School for Advanced Studies), Trieste, Italy, 2017.
Paleogenomic evidence for self-domestication in Homo sapiens Conference
Talk at the Conference of the European Human Behaviour and Evolution Association (EHBEA), April 6–8, École Normale Supérieure, Paris, France, 2017.
2015
Referential Numerosity and Morphosyntactic Number Agreement: a Psycholinguistic Study on Italian qualche/alcuni Conference
Poster at the 41° Incontro di Grammatica Generativa (IGG41) [41st Generative Grammar Meeting], February 26–28, 2015, Università per Stranieri di Perugia, Perugia, Italy, 2015.
Electronic versions of papers are provided as a professional courtesy to ensure timely dissemination of academic work for individual, noncommercial purposes. Copyright and all rights therein reside with the respective copyright holders, as stated in each paper. These files may not be reposted without permission.