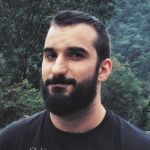 Research Areas
Research in language comprehension showed that the listener/reader does not passively attend to linguistic stimuli, but deploys top-down predictive processes to infer what is likely to be encountered, thus facilitating subsequent integration of information. Similarly, top-down processes are deployed during language production, where an internal model of the utterance is generated and used to predict sensory information about one's own utterance, allowing for self-monitoring.
My PhD project aims at studying the mechanisms involved in predictive processing during auditory language comprehension and whether there are links with pre-onset preparatory stages in speech production. To do so, I study the neural oscillatory activity (time-frequency representations) of the brain recorded with electroencephalography.
Other research interests: the language faculty and the language-ready brain, language and numerical cognition interface, cognitive biology and evolution of cognition, evolutionary linguistics
Selected Publications
Publications
Posters
2019
Patterns of alpha and beta oscillations in language prediction and production Conference
7th Cognitive Science Arena 2019, February 15-16, 2019, Bressanone-Brixen, Italy, 2019.
Oscillazioni neurali α e β in predizione e produzione linguistica: Caratteristiche comuni e distintive Conference
Giornate di Studi Scientifici sul Linguaggio 2019, February 11-12, 2019, Rovereto, Italy, 2019.
2018
Producing, comprehending, and predicting: Project outline on spoken and signed language electrophysiology Conference
6th Cognitive Science Arena 2018, February 23–25, 2018, Bressanone-Brixen, Italy, 2018.
2017
Referential numerosity in quantification expressions. An ERP study on Italian Conference
55th Annual Meeting of the Academy of Aphasia, November 5–7, 2017, Baltimore, Maryland, USA, 2017.
The encoding of numerosity in quantification expressions. Insight from an ERP study Conference
18th Science of Aphasia, September 11–14, 2017, University of Geneva, Geneva, Switzerland, 2017.
Encoding Numerosity into Number Morphology: An ERP Study Conference
10th International Morphological Processing Conference (MoProc), June 22–24, 2017, SISSA (International School for Advanced Studies), Trieste, Italy, 2017.
2015
Referential Numerosity and Morphosyntactic Number Agreement: a Psycholinguistic Study on Italian qualche/alcuni Conference
41° Incontro di Grammatica Generativa (IGG41) [41st Generative Grammar Meeting], February 26–28, 2015, Università per Stranieri di Perugia, Perugia, Italy, 2015.
Electronic versions of papers are provided as a professional courtesy to ensure timely dissemination of academic work for individual, noncommercial purposes. Copyright and all rights therein reside with the respective copyright holders, as stated in each paper. These files may not be reposted without permission.